Best Waterproof Walkie Talkies 2021: Buyer's Guide
The definitive buyer's guide to the best waterproof walkie talkies. Find out how to choose and what are the best walkie talkies of 2021.
This post may contain affiliate links. Please read our disclaimer for more info.
Waterproof walkie talkies are perfect, when you need to stay in touch with the rest of your group during outdoor activities, especially water-based activities.
There are tons of affordable and durable waterproof walkie talkies on the market. Continue reading Call It Adventure guide to find out top waterproof walkie talkies 2021 (Call It Adventure opinion) and Amazon's choice for waterproof walkie talkie.
Contents:
3 reasons to have waterproof walkie talkies
Waterproof walkie talkie is a two-way radio that is designed specifically for operations in wet conditions.
Why do you need walkie talkie and why is it better to have it waterproof?
Reason #1: Communication.
Walkie talkie is a reliable alternative to a cell-phone. No need to pay for the coverage, it is completely free to use. No need to look out for a coverage, because walkie talkie is a two-way radio that uses radio waves, which allows to communicate in remote areas.
Reason #2: Weather-proofness.
Waterproof walkie talkie is a great option to stay in touch while being exposed to water. Going fishing, kayaking or snowbording and skiing? Waterproof walkie talkie can be used in any weather condition unlike a cell phone that can break after being dropped in water.
Reason #3: Safety.
In extreme situations or being in a remote area and needing help a walkie talkie can save life. Use walkie talkie to communicate with the rest of the group or to send an emergency signal. For example me and my friends snowboard in groups and communicate constantly when don't see someone around.
Important features to look for
Ease of use
As long as you use walkie talkie as a helper during outdoor activities and not as a professional instrument, easy of use should be #1 feature. Of course for grand vessels a two-way radio should have a complicated mechanism, but for recreational purposes a walkie talkie should be easy to use and understand. Look for a simple models that can be intuitively operated.
Battery type & life
Usually a walkie talkie runs on lithium polymer batteries and easily rechargeable. It is a great option for relatively short trips, because you can charge a walkie talkie and don't worry about constantly buying additional batteries. But if you plan to be far from civilization and therefore outlets, look for models that run on alkaline batteries for example Motorola T100 Talkabout Radio.
Waterproof
Even if today you don't need a waterproof walkie talkie, I highly recommend pay attention to that feature. Because in future waterproof feature will give you a flexibility of use at any place and any condition, either it is backcountry or plaining in a water park with kids .
Weight
Consider the conditions when a walkie talkie will be used. If it is a boat trip and there is no need to carry around a walkie talkie than weighty models won't be a problem. But if you need to carry the walkie-talkie for a long period of time than look out for a lighter models.
Floating
Bet you didn't think about floating feature. The reason it is important is that there is a risk of accidentally dropping a walkie talkie in water when you're on a boat or a kayak. A floating walkie talkie won't drown and let you swim and get it back, which is crucial in extreme situations.
Range
Walkie talkies can work only on particular distance. This means how far a signal can go. Most operate within several miles. This is more than enough hen you use a walkie talkie to communicate with the rest of the group. But if you need a source of communication that covers bigger distances, look out for models with wide range.
Channels
I like this one. Why do I need channels(plural) if I plan to communicate on one channel with my buddies? Because a two-way radio catches the radio waves wirelessly. People communicate by tuning to a certain frequency or channel. Personally I was in situation, when someone was talking to our channel my mistake. Nothing serious, it was fun. But considering this there is a possibility, that other people nearby can use walkie talkies and limited amount of channels can create a group mess. That's why check walkie talkies that have more that one channel.
Weather readings and NOAA alerts
No doubt that weather is an important factor to take into considerations. Having a walkie talkie that has access to National Oceanic and Atmospheric Association (NOAA) and weather forecasts can improve experience. It is important to stay updated about possible weather changes when you out camping or on the water for a long time and don't have access to information about weather alerts.
GPS
Did you know that some two-way radios have a compass or GPS option? Well, some walkie talkies offer a backup for those who lost with GPS or compass built in the radio.
Protect agains dust
Many walkie talkies have dust protection. Dust can affect the mechanism and lower the life expectancy of a walkie talkie. That's why it is necessary to take care of a walkie talkie and check out dust resistant option, especially if you plan to use it in conditions where it is exposed to dust.
VOX, Squelch & Rewind
Voice operated Exchange (VOX) is a feature that lets use a walkie talkie detect a voice automatically hands free. It is a great option that can make the use of a walkie talkie much easier. As for Squelch, it is a feature that reduces the background sounds in models like this marine radio. Rewind lets replay the missed calls. All of these features are not crucial but really nice to have. So if you ready to pay extra buck, check additional features a walkie talkie offers.
Warranty
Sometimes even a highly rated item can break. Therefore protect yourself by choosing a walkie talkie with a warranty that covers at least a couple of months or a year and backs up any mechanism breakdowns.
Top Waterproof Walkie Talkies And Best Two Way Radios 2021
Amazon's choice for floating walkie talkies
1. Cobra ACXT1035R FLT Walkie Talkies
The good: Cobra makes some great marine radios and walkie talkies. Cobra ACXT1035R FLT Walkie Talkies operates in a big range, has user friendly design, NOAA weather and alerts. VOX options is very handy. It floats and due to its bright color it is easy to find i dropped.
The bad: Small display can be a problem for people with not very good vision.
The bottom line: Cobra ACXT1035R FLT Walkie Talkies  is a great set of waterproof walkie talkies with lots of additional features and a good price.
Amazon's choice for waterproof walkie talkie
2. Motorola T600 Talkabout Radio

The good: Compatible with any radio, Motorola T600 Talkabout Radio is a wide range waterproof walkie talkie with 22 channels. It has NOAA alerts, can be used hands free, has a long battery life and nice design.
The bad: Doesn't perform well during elevations change, for example when you hike up and down the mountain. The construction is very air tight and the difference between pressure inside and outside can create noisy sound while communicating.
The bottom line: Motorola T600 Talkabout Radio is a great choice when you need a good price walkie talkie which main purpose it to be waterproof.
3. Midland GXT1000VP4 two way radio
The good: Extreme range waterproof walkie talkie with 22 channels, weather alerts and it comes with additional accessories such as rechargeable battery packs, boom mic headsets, belt clips, 120V dual desktop charger, AC and DC adapter.
The bad: Midland GXT1000VP4 is not particularly waterproof. It is splash-resistant, meaning it can resist falling drops of water, but direct and long contact with water can damage the radio. Moreover, you will need a GMRS license. It is not difficult, but when you don't need an extreme range walkie talkie why bother??
The bottom line: Midland GXT1000VP4 is a great option when you need an extreme range walkie talkie that can be exposed to rain, for example while hiking or camping.
4. Dewalt DXFRS300 1W Walkie Talkies Heavy Duty
The good: Voice activated, shock resistant, dust and waterproof two-way radio that was created to operate in heavy duty circumstances. Dewalt DXFRS300 has a lifetime warranty that is a huge plus, not that anyone will use use but as a proof of high quality of materials.
The bad: Some users have issues with antenna. But again, the life time warranty is a huge plus.
The bottom line: This is a walkie talkie that is designed for heavy usage. So if you need a waterproof walkie talkie that can survive hurricane than Dewalt DXFRS300 is your choice.
Amazon's choice for 10-mile walkie talkie

5. Motorola MR350R 35-Mile Range 22-Channel FRS/GMRS Two-Way Radio
The good: Long range, 22 channels walkie talkie with a solid construction that is very reliable. It can be used hands-free which is a very convenient function.
The bad: Motorola MR350R is not a waterproof radio. It can survive falling droops of water and wet conditions, but can be damaged if it drowns. Plus it doesn't have any features besides very basic ones.
The bottom line: This is the two-way radio set I've been using for the last 6 years in different conditions, including snow and water, road trips and hiking. Motorola MR350R still looks like new and works perfect. It is due to my positive experience why I can highly recommend this model for those who are in search for a simple and reliable walkie talkie.
Marine Radio as an alternative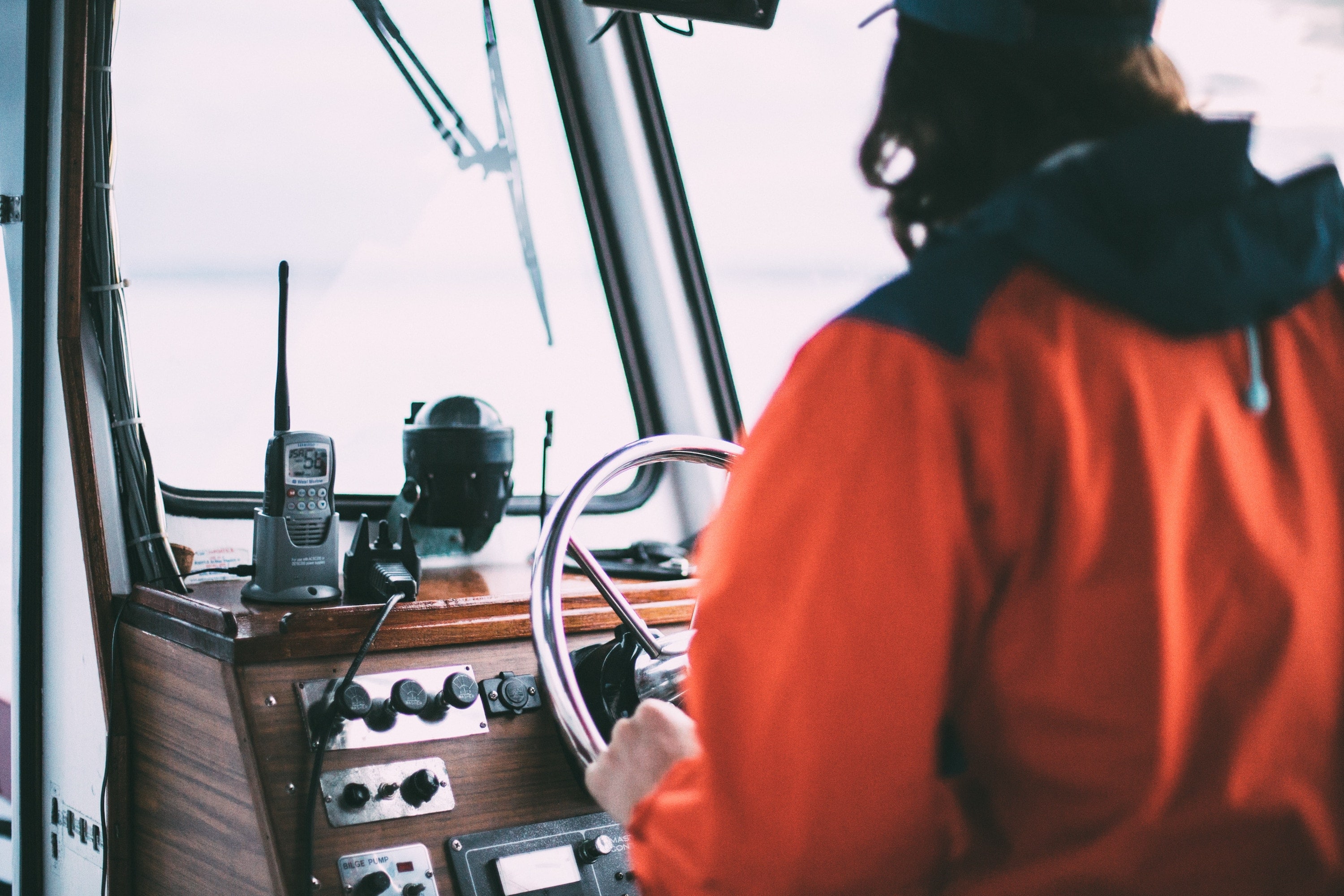 Marine radio can be a great alternative to a walkie talkie. Marine radio operates in high frequency signal, meaning it can reach bigger rangeIt. Also marine radios have a lot more functions than walkie talkies, mostly because the main purpose of a walkie talkie is to deliver a signal, while a marine radio is a crucial instrument of safety and survival. But it is a little bit more complicated in use than a walkie talkie, especially when it come to regulations. Make sure to check and follow U.S. Department of Homeland Security The Navigation Center of Excellence regulations on what channels you use, how to send a distress call and license information. As of today, you don't need a license to use a marine radio within USA borders, including U.S. waters. But the regulations can change. Check it before purchasing a marine radio.
If you ready to go extra mile with regulations, here are top marine radios on the market:
1. Standard Horizon HX870 Floating 6W Handheld VHF with Internal GPS
The good: Standard Horizon HX870 has 6 channel WAAS GPS, built-in 70 Channel Class "D" DSC, GPS, noise cancelling function, with really good waterproof rating (4.92 feet for 30 minutes), USB port and NOAA Weather Channel with Weather Alert. It has a screen where all the functions and setup menu is shown, which makes it very easy and intuitive to use. The battery life is around 10 hours. An emergency signal button immediately sends a signal without additional efforts.
The bad: It is a heavy and large two-way radio, the weight is 2 pounds and it's bulky compared to a less complicated walkie talkie models. Even though, it is lighter than the previous model. Also the screen has very not so good illumination, which makes it difficult (but possible) to use the radio at night. Plus it is expensive (over $200).
The bottom line: In general, Standard Horizon HX870 is a great marine radio with intuitive interface, large and easy to read screen, quick scanning GPS and weather alerts can be a life saver while on water due to its functionality. It has a great reputation of reliability and durability and has a lot's of features that can be handy in extreme situations.
2. Cobra MRHH350FLT Floating VHF Long Range Marine Radio, Tri-Watch, Burp Feature

The good: Cobra MRHH350FLT is easy to use marine radio with ergonomic design. The battery lasts for a couple of days, which is a great plus, when you far from civilization. Featuring NOAA alerts, 88 channels it is a submersible marine radio that is made of high quality materials.
The bad: Cobra MRHH350FLT doesn't have a USB port and it can't be charged by a power bank. It is a minor problem for people who don't plan on going out for a long period of time. But if you plan to be out in the water or camping for a couple of days, low battery is not something you want to see.
The bottom line: Cobra MRHH350FLT is lighter and cheaper than Standard Horizon HX870, having the same basic features a marine radio has to have. Go with Cobra MRHH350FLT  when you are looking for a professional walkie talkie with long battery life that combines high quality and good price.
3. ICOM IC-M25 21 Handheld VHF Radio
The good: ICOM IC-M25 21 compact, easy to handle marine radio that has a USB port and can be charged with a power bank if needed. It can monitor 3 channels at a time.
The bad: Low battery life comparing to the previous models of marine radios in this guide.
The bottom line: ICOM IC-M25 21 is the right choice for small boats and kayaks who stay close to the shore, because the power is up to 5 watts, meaning the range can be limited to a several miles with obstacles.
Conclusion
Walkie talkies are great while fishing or kayaking and crucial while exploring the wilderness. Personally I use Motorola MR350R while snowboarding and during road trips to communicate with friends. It gives me a sense of safety and brotherhood. All of us in stay in touch no matter what is the cell-phone coverage and we keep an eye on each other, having each other's back.
Now that you know what features to look for in a walkie talkie and what models are the top, you can safety-proof you outdoor experience and stay in contact with your group even in remote areas.
Thanks for reading Call It Adventure!
This post may contain affiliate links. Please read our disclaimer for more info.