88 Best Travel Adventure Quotes
A list of best travel adventure quotes you'll love.
This post may contain affiliate links. Please read our disclaimer for more info.
We all love traveling and enjoyable adventures. But sometimes we need a little kick to feel motivated and inspired. As for me, I use Travel Adventure Quotes as a mood booster at my working space, on social media account, and even as a messenger status. It helps me feel as if life itself is an adventure filled with awesome moments and vibes.
Below are some of the best travel adventure quotes I managed to gather so that you can use them as a source of motivation. Plus a little bonus at the end: Books to inspire your motivation and travel.
Just remember, whenever you plan to do, Call It Adventure!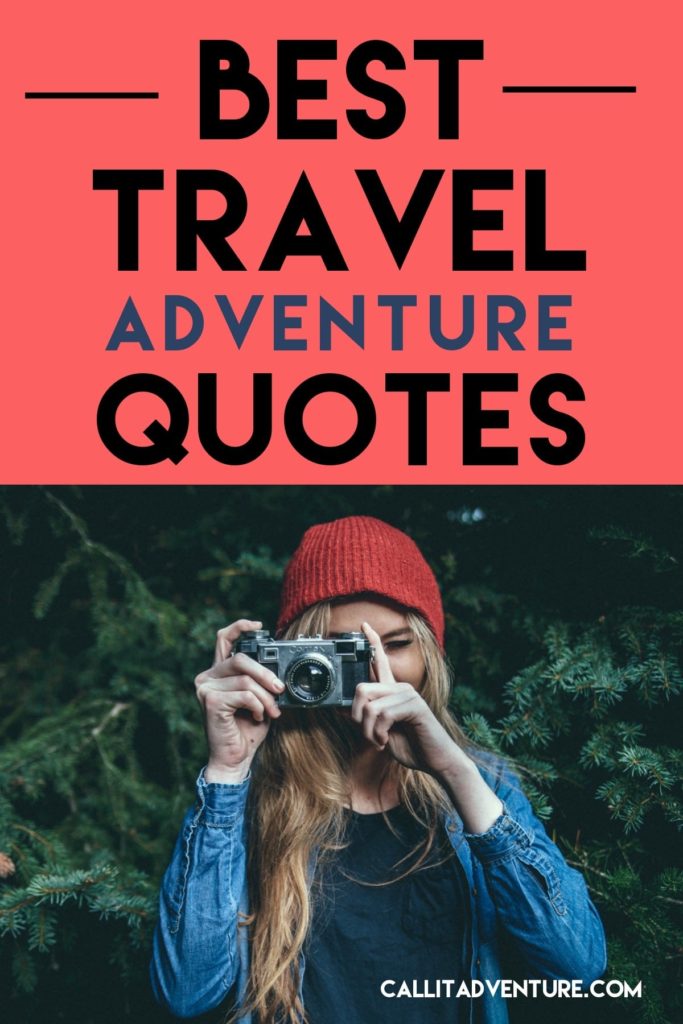 Here are we go:
Travel Adventure Quotes for couples
Travel Adventure Quotes for Friends
Editors Best Choice Travel Adventure quotes
All-Time Favorite Quotes
A journey of a thousand miles must begin with a single step. -Lao Tzu
Carpe diem
Do not go where the path may lead, go instead where there is no path and leave a trail. – Ralph Waldo Emerson
I haven't been everywhere, but it's on my list.
I love those days where my only decision is whether to go to the beach in the morning or in the afternoon.
If you really want it, you will find a way. If not, you will find excuses.
Let's sleep under the stars
Life happens when you are busy making plans!
Make your life a mission – not an intermission.
Oh, the places you'll go. – Dr. Seuss
Once upon a time, there was an adventure…!
The greatest adventure is what lies ahead.
The world is a book, and those who do not travel read only one page.- Saint Augustine
Travel and change of place impart new vigour to the mind. – Seneca
Travel makes one modest. You see what a tiny place you occupy in the world. – Gustav Flaubert
Traveling – it leaves you speechless, then turns you into a storyteller.- Ibn Battuta
We travel not to escape life, but for life not to escape us.
What is life but one grand adventure?
When was the last time you did something for the first time?
Short Travel Adventure Quotes
Adventure Awaits, Go find it.
Adventure is an attitude.
Attitude is the difference between an ordeal and an adventure. – Bob Bitchin
Dare to travel.
I don't want to not live because of my fear of what could happen. – Laird Hamilton
I want to getaway
If not now, when?
If we all did the things we are capable of doing, we would literally astound ourselves. – Thomas Alva Edison
If you obey all the rules, you miss all the fun. – Katharine Hepburn
It is not the mountain we conquer but ourselves. – Edmund Hillary
Jobs fill your pockets, but adventures fill your soul. – Jaime Lyn
Life has no limitations, except the ones you make!
Life is an adventure, not an all-inclusive retreat.
Life was meant for good friends and great adventures.
Live, travel, adventure, bless, and don't be sorry. – Jack Kerouac
Man cannot discover new oceans unless he has the courage to lose sight of the shore. – Aristophanes
Nothing adventured, nothing attained. – Peter Mcwilliams
One way to get the most out of life is to look upon it as an adventure. – William Feather
Say YES to adventure!
Spontaneity is the best kind of adventure
The impulse to travel is one of the hopeful symptoms of life. – Agnes Repplier
The journey not the arrival matters. – T. S. Eliot
The price of anything is the amount of life you exchange for it. – Henry David Thoreau
The voyage of discovery is not in seeking new landscapes but in having new eyes. – Thomas Alva Edison
Then one day, when you least expect it, the great adventure finds you. – Ewan Mcgregor
Travel is never a matter of money, but of courage. – Paulo Coelho
Travel often; Getting lost will help you find yourself. – Holstee Manifesto
What If I can Do It?
When nothing is sure everything is possible.
With age, comes wisdom. With travel, comes understanding. – Sandra Lake
Work hard. Travel harder.
You can't cross the sea merely by standing and staring at the water. – Rabindranath Tagore
You don't need magic to disappear. All you need is a destination.
You must go on adventures to find out where you truly belong. – Sue Fitzmaurice
Your time is limited, so don't waste it living someone else's life. – Steve Jobs

Travel Adventure Quotes for couples
As soon as I saw you, I knew an adventure was about to happen. -Winnie the Pooh
How about we get married all over the world?
I want to tell you "I love you" in every country on this planet.
Life is a wonderful adventure. Share it with someone special.
Life is one big adventure. Wanna join?
Relationship status: in love with adventure.
The summit is what drives us, but the climb itself is what matters. – Conrad Anker
Travel makes you realize that no matter how much you know, there's always more to learn. – Nyssa P. Chopra, The Cultureur
We love because it's the only true adventure. -William Gladstone
Travel Adventure Quotes for Friends
Come get lost with me.
Friends that travel together, stay together.
Good company in a journey makes the way seem shorter. – Izaak Walton
It is called BroMance.
Jump in the car, we are going to see the world!
There is no WiFi in the forest but I promise you will find a better connection.
Funny Travel Adventure Quotes
Adrenaline and Adventure, here I come.
Because in the end, you won't remember the time you spent working in the office or mowing your lawn.
If you think adventure is dangerous, try routine. It's lethal! – Paulo Coelho
If you were waiting for a sign to go out there and live, here it is: SIGN!
Life is an adventure, not a package tour. – Eckhart Tolle
Today a part of me wanna go traveling. The other one too!
When you start looking like your Passport Photo it is time to take a long vacation.

Editors Best Choice Travel Adventure quotes
A ship is safe in harbor, but that's not what ships are built for. -John G. Shed
Every Mountain top is within reach if you just keep climbing.
Fill your life with adventures, not things. Have stories to tell not stuff to show.
Focus on the journey, not the destination. Joy is found not in finishing an activity but in doing it. – Greg Anderson
If happiness is the goal – and it should be, then adventures should be top priority. – Richard Branson
If thinking about it makes you excited, imagine actually doing it!
In case of emergency, break the routine and take an adventure!
Instead of trying to make your life perfect, give yourself the freedom to make it an adventure, and go ever upward.
Life is a fatal adventure. It can only have one end. So why not make it as far-ranging and free as possible. – Thornton Wilder
My parents taught me honesty, truth, compassion, kindness and how to care for people. Also, they encouraged me to take risks, to boldly go. They taught me that the greatest danger in life is not taking the adventure. – Brian Blessed
Stop worrying about the potholes in the road and enjoy the journey. – Babs Hoffman
Take vacations. You can always make money. But you cannot always make memories.
The mountains are calling and I must go. – John Muir
The use of traveling is to regulate imagination with reality, and instead of thinking of how things may be, see them as they are. – Samuel Johnson
To my mind, the greatest reward and luxury of travel is to be able to experience everyday things as if for the first time, to be in a position in which almost nothing is so familiar it is taken for granted. – Bill Bryson
Travel is no reward for working, it's education for living.
Travel isn't always pretty. It isn't always comfortable. Sometimes it hurts, it even breaks your heart. But that's OK. The journey changes you; it should change you. It leaves marks on your memory, on your consciousness, on your heart, and on your body. You take something with you. Hopefully, you leave something good behind. – Anthony Bourdain
Travel opens your mind as few other things do. It is its own form of hypnotism, and I am forever under its spell. – Libya Bray
Twenty years from now you will be more disappointed by the things you didn't do than by the ones you did do. So throw off the bowlines. Sail away from the safe harbor. Catch the trade winds in your sails. Explore. Dream. Discover. -Mark Twain
We must go beyond textbooks, go out into the bypaths and untrodden depths of the wilderness and travel and explore and tell the world the glories of our journey. – John Hope Franklin
Also…
I would really love to hear back from you! What are your favorite travel adventure quotes that inspires you? Please share them in comments and let me know what motivates you to travel.