Explore Savannah GA Things To Do
Visit Savannah for a day or a weekend. It will leave you breathless. Below is a plummy one-day plan with most popular Savannah GA things to do.
This post may contain affiliate links. Please read our disclaimer for more info.
A coastal city filled with history, extraordinary architecture and southern vibes, Savannah, Georgia attracts millions of visitors each year. A guide to Savannah can be quite imposing. Below is a plummy one-day plan from Call It Adventure with most popular Savannah GA things to do and popular attractions in Savannah.
Established in the 18th century on the Savannah River, the city is known for magnificent parks, historic buildings, old cobblestone streets and oak trees covered with Spanish moss and other numerous Savannah attractions.
Hostess of the South. The former promotional name for Savannah, Georgia manifests Southern Charm and hospitality. Modern-day Savannah is an industrial center and an important seaport.
Savannah, GA things to do:
1. Take a classy Southern photo with the mossy oak trees in Wormsloe Historic Site
The face of the South is definitely dangling branches of oak trees and Spanish moss is the most legendary of all Savannah attractions. And for that matter, Wormsloe Historic Site is the best place to witness the stunning beauty of mossy oak trees. A picturesque oak avenue leads to the ruins of Wormsloe, a colonial estate, the museum, and several trails to hike around the grounds.
Address: 7601 Skidaway Rd, Savannah, GA 31406
Hours: 9:00 pm – 5:00 pm
Admission: $2 and up for the site. But you can stop by and enjoy the beauty of the alley for free.

To me a scene with oak trees covered in moss looks so magical, it instantly catches eyes. I was thinking about adding a picture of Spanish moss covered trees to a wall. Just check out this oak alley canvas print. It can be added to any interior style, either classic and cozy or modern and minimalistic and be a reminder of a great Southern getaway.
2. Have a cup of tea in Gryphon Tea Room
Housed in an old apothecary Gryphon is the premier café of the Savannah College of Art and Design. A hidden gem in a stunning part of historic Savannah with excellent service, a nice variety of tea and delicious food. The Gryphon Tea Room usually is a busy place, so call before (at least one hour before coming)to make a reservation.
Address: 337 Bull St, Savannah, GA 31401
Hours: Mn-Sat 11:00 am – 6:00 pm, Sun 11:00 am – 3:00 pm
Price range: Moderate

3. Visit a Historic square
City plan is one of the things that make Savannah unique. In 1733 the city was laid out around four squares, each surrounded by residential blocks. As the development continued through 18th and 19th centuries, 20 more squares were added. Original city plan consisted of 24 squares 22 of which are remaining today and offer shade and rest for tourists and citizens. None is alike, but each is enchanting. Head to Ellis Square, city's most spectacular square, Lafayette Square the home to the Cathedral of St. John the Baptist or to Chippewa Square to take a picture on the bench where Forest Gump was sitting (the original bench is in the Savannah History Museum. But the location of the bench for the movie in Chippewa Square).
4. Walk around or take a tour around Savannah's Historic District
Savannah's Historic District is the largest National Historic Landmark District in the United States. With history at every corner, cobblestone streets, beautiful oak trees covered in moss and more than 22 historic squares, Savannah's Historic District is filled with Southern charm. Discover Savannah's historic squares, gorgeous mansions and 18th-century homes, visit galleries, shops and savor, the famous South cuisine.
Here is a very useful Savannah Historic District illustrated map. The reason I recommend it is that is easy to read, carry around and I really like the illustrations. Probably illustrations are the main reason to buy it. It is a pure pleasure to check this map while walking and then head towards the next step in the itinerary.
Just check it yourself at Amazon. It also has some tourist information and interesting facts about Savannah.
After a visit you can frame it, because again, the illustrations are awesome.
Savannah Visitor Center located in a restored Central of Georgia railroad station is probably the best starting point to Savannah's Historic District exploration. There is a lot of information about the city at the visitors center and options to take a bus tour or a self-guided tour.
If you would like to take a tour and to visit Savannah's other attractions that require tickets, I suggest purchasing TourPass for Savannah. TourPass gives access to more than 30 Savannah's attractions with a 55% discount or more. You can choose a 1, 2, or 3-day pass. Attractions that go with TourPass include Riverboat Cruise, Hop On Hop Off Trolley (my favorite attraction whenever I'm in a new city), Carriage Tour, House and Art Museums, Cultural Sites and many more.
Read more information in TourPass here.
5. Have lunch at City Market
City Market is a bustling four-block area of art galleries, restaurants and cafes, shops and boutiques and live entertainment. Situated between Ellis and Franklin Squares City Market used to be Savannah's center of commerce for over 300 years. Nowadays restored warehouses are turned into galleries and shops where art and culture meet the history. Check cafes, restaurants and try legendary southern kitchen dishes, savory and zesty. Southern kitchen is known to be comfort food cooking that is good for the body and for the soul. Maybe you'll even try to bring Southern kitchen to your home table. Try A Real Southern Cook from a former cook at Savannah's most renowned restaurants or Savannah Chef's Table from Savannah's best chefs and restaurants under one cover. I/m sure these recipe books will inspire you to recreate your Southern getaway experience in Savannah.
Address: 219 W Bryan St, Savannah, GA 31401
Hours: Mn-Wed 10:00 am – 6:00 pm, Thur-Sat 10:00 am – 8:00 pm, Sun 1:00 pm – 5:00 pm
Price range: Moderate

6. Stroll along Savannah's Waterfront and River front
Warehouses along  Waterfront and River Street remind what a busy seaport it used to be when cotton trade flourished. The riverfront was abandoned after the yellow-fever epidemic and the resulting quarantine in the early 1800s. After the warehouses were restored and turned into galleries, hotels, restaurants  Waterfront and River Street became a popular Savannah attraction.
7. Have a snack at The Paris Market & Brocante
In the heart of the city a stylish and exquisite ode to Marche aux Puces, a Parish flea market, a hidden gem among Savannah attractions. The Paris Market & Brocante is a charming combination of a museum with ever-changing installations, a store with decor treasures and antiques and a fashionable cafe.
Address: 36 W Broughton St, Savannah, GA 31401
Hours: Mn-Sat 10:00 am – 6:00 pm, Sun 11:00 am – 5:00 pm
Price range: Moderate

8. Relax in a shade of Forsyth Park
Forsyth Park is perhaps the most favorite of Savannah attractions and the best known place to gather and chill in the shades of huge trees near glorious fountain for locals and tourists. Located in the north part of the park and surrounded by moss-covered oak trees Forsyth Park fountain, one of Savannah's icons, adds a festive tune to the park exalted spirit. It is a great place to relax and read a book. Of course my suggestion is to read a book, connected to Savannah, such as Savannah Blues: A Novel by Mary Kay  Andrews. This novel is the 1st book in the Weezie and Bebe Mysteries series. A light read, Savannah Blues: A Novel has all you need to add to your Southern experience: humor, love, vibe and an intrigue. Savannah Blues: A Novel is also a great companion on a road to Savannah. You can check it yourself and look what's inside the book for free here.
Address: Drayton St & W Gaston Street, Savannah, GA 31401
Hours: 7:00 am – 11:00 pm

9. Visit a historic house
The city abounds with old houses. A bold claim would be that each and every house in Historic District has a story to tell. Brick walls remember days of Civil War and flourishing trade. A lot of historic houses are now homes to museums, restaurants, and shops. A day is not enough to visit all the historic houses. The best idea is to choose a couple of houses to get a glimpse of Savannah's noble and magnificent mansions.
Juliette Gordon Low Birthplace is an excellent choice to start with. A remarkable mansion, where Juliette Gordon Low, the founder of Girl Scouts of the USA, was born, looks exactly as it did in the 19th century.
Address: 10 E Oglethorpe Ave, Savannah, GA 31401
Hours: Mn-Sat 10:00 am – 5:00 pm, Sun closed
Admission: $13 and up

Proceed to Owens-Thomas House with luxurious furniture and arts that date from 1790 to 1840.
Address: 124 Abercorn St, Savannah, GA 31401
Hours: Sun-Mn 12:00 am – 5:00 pm, Tue-Sat 10:00 am – 5:00 pm
Admission: $15 and up
Next wander to Gingerbread House with its gingerbread arches and spindles which is one of the most photographed houses in Savannah represent what is known as Steamboat Gothic gingerbread carpentry.
Address: 1921 Bull St, Savannah, GA 31401
Admission: free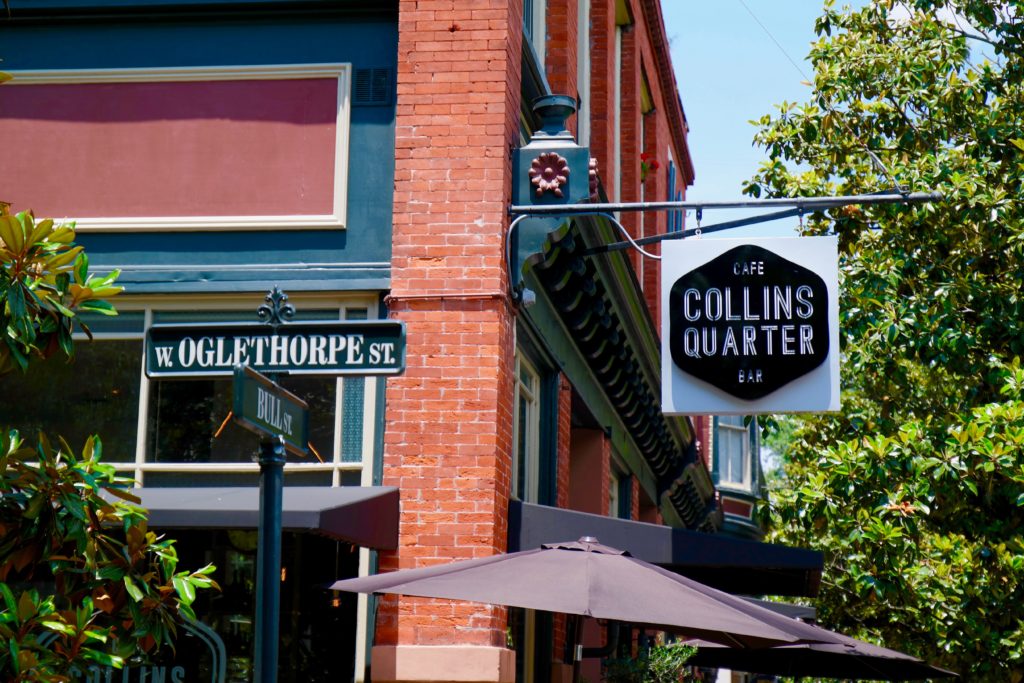 10. Have dinner at The Olde Pink House
There is no better way to finish a day in Savannah than with fine dining experience. While most of Savannah's restaurants and cafes are housed in old brick houses or historic buildings, nothing beats a fine restaurant in a mansion. One of the most well known Savannah attractions and finest Savannah's restaurants is The Olde Pink House that offers Southern cuisine with a modern twist. A funny story behind the prominent color: originally the house was built with red bricks and covered with white plaster. But the red color of the bricks would silt through the plaster giving the mansion a shade of pink. These days the color is a signature feature of the restaurant along with flavorous food and sophisticated atmosphere.
Address: 23 Abercorn St, Savannah, GA 31401
Hours: Mn-Sun 5:00 pm – 10:30 pm, Tue-Sat 11:00 am – 2:30 pm, 5:00 pm – 10:30 pm
Price range: $31-60

And if you are planning a real Southern getaway you may want to check a nearby city of Charleston. Here is a link to Call It Adventure Charleston Attractions And Places To Go. I also recommend watching The Seasoned Traveler Savannah/Charleston A Tale of Two Cities. It is free on Amazon as long as you have a prime membership (which I advise to have). The movie tells about history of the cities, important events and lets you enjoy the Southern charm from home.
Thanks for reading Call It Adventure!