Best Remote Proofreading Jobs 2021
Remote online proofreading jobs offer flexible hours and high income for a part-time involvement. Find out how to make money with proofreading services.
This post may contain affiliate links. Please read our disclaimer for more info.
A lot of people with proper grammar and language skills don't use them as a way to make extra cash.
If you are one of these people, you're in luck! Invest some time into research and learning about proofreading services, groom the linguistic talent, and start making money as a proofreader.
Moreover, a remote online proofreading job can give you opportunities to travel the world and work from anywhere.
Related posts:
Proofreading jobs responsibilities
A proofreader performs various types of services, all of which are aimed to improve the original text provided. The primary responsibilities include checking the text for typos and grammar errors. Additional services can include editing the text or suggesting improvements.
How to start a career in proofreading services
There is no need to go to a college to learn proofread and have a degree in proofreading. No doubt that a degree in English or literature will be of great help. But in general, anyone with good language skills, passion for reading, a catchy eye for grammar errors, and typos can become a successful proofreader.
Of course, it is great to have some kind of a plan on how to start a career of a proofreader and a career roadmap.
Here is a FREE workshop from Caitlyn at Proofreadanywhere about freelance proofreading business.
Caitlyn started her proofreading career in 2008 and since then turned it into six figures business.
Check FREE workshop from Caitlyn to find out more about proofreading jobs for a real proofreader.
Moreover, Caitlyn shares her experience and knowledge about a proofreader career in a comprehensive training program called General Proofreading: Theory and Practice.
General Proofreading: Theory and Practice is a great course that will give you a good start in proofreading and practical tips about proofreading business.
Start a career as a proofreader today with Proofreadanywhere.com!
How much does a proofreader make?
According to Glassdoor an average full-time proofreader makes $44,630 per year. Top online proofreading jobs pay around $65k per year. At the same time, a newbie can make around $33k at the beginning of the proofreading career.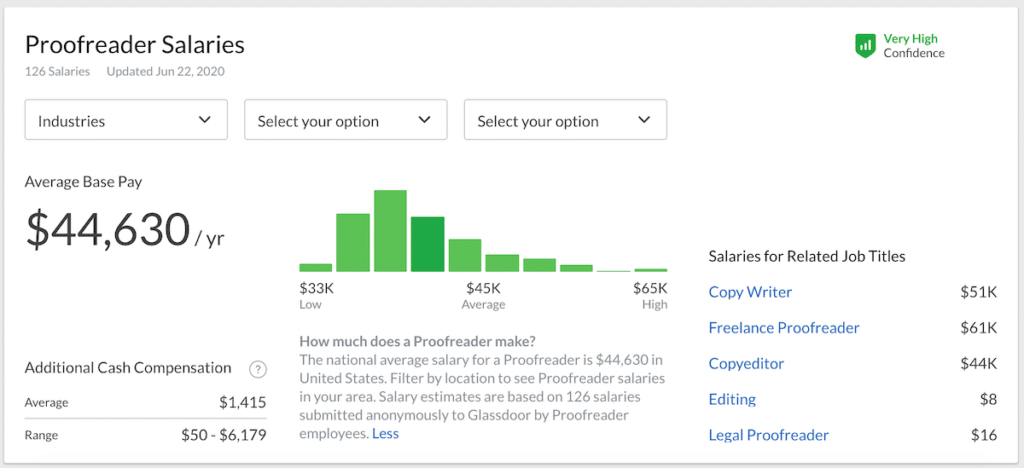 Start a career as a proofreader today with Proofreadanywhere.com!
Where to look for the best online Proofreading jobs
You can start a career as a proofreader with AJE that is a network of proofreading specialists and editors.
Babbletype is a content analysis company that is constantly looking for new people to join their team.
Book Editing Associates is a company that provides editing and proofreading services for writers.
Cambridge Proofreading and Editing provides high-quality services to improve texts, articles, and books. Check their career page to find proofreading jobs and other editing opportunities.
Contena is a platform for remote and freelance jobs for writers, editors, and proofreaders.
Edit 911 is a company that provides premium proofreading and editing services. But keep in mind that Edit 911 hires only specialists with Ph.D.
Edit Fast is an editing company that performs a variety or proofreading services and offers jobs for proofreaders.
Editor Live is a platform where businesses can find editors, writers, and proofreaders.
Editor World is an editing and proofreading company that hires professionals of different levels to join their team.
If you are looking for an online job, consider checking English Trackers jobs. English Tracker is an international proofreading and editing company.
Fiverr is a marketplace for remote jobs with a lot of opportunities for a beginning proofreader.
FlexJobs is the leading online job search platform specializing in remote, part-time, freelance, and online jobs.
Glassdoor is one of the largest job and recruiting marketplaces in the world.
Gramlee, and editing company, is always hiring. Therefore you can start a career as a proofreader for checking Gramlee's job postings.
Guru is a freelance marketplace where you can find remote proofreading jobs.
Probably the most popular platform for online job search offers a lot of posting for proofreading services. Indeed has a lot of filters to make the search easy.
Jooble is a global job search engine that has a lot of proofreading postings.
Known also as Wordfirm, Managed Editing sometimes hires independent freelancers to help with proofreading services. You can complete an online application to get alerts about proofreading opportunities.
People Per Hour is a freelancing community that offers a lot of remote jobs, including gigs for proofreaders.
Proofreading Pal company works with thousands of clients in over a hundred countries all over the world. What makes them stand out is a two-proofreader model. It means that every single document is checked by two proofreaders. Therefore they are actively hiring new proofreaders of all levels.
Proofreading Services is a leading digital company in editing and proofreading. Check their remote career opportunities here.
Quality Proofreading Services is a UK based proofreading company with a 100% satisfaction guarantee. They are always interested in new hires. Therefore you can apply for an online proofreader job if they seem to be a match for you.
Reedsy is a network of publishing professionals. If you want to join the community, you need to create a profile so that Reedsy will connect you with customers who seek for proofreading help.
Scribe Media is a self-publishing company that helps writers in a variety of ways. Right now, they hire only editors. But you can subscribe to receive alerts about proofreading jobs.
SimplyHired is a big platform with a lot of proofreading job opportunities, information about companies, salaries, and so much more.
Smart Brief is a digital publishing company that offers remote opportunities for proofreaders.
Upwork is a global platform for freelancers to find remote opportunities. You can post your resume as a proofreader, and Upwork will connect you with potential clients.
Virtual Vocations is a planform for remote and online jobs search, including but not limited to proofreading jobs.
An Australian company that provides premium proofreading services worldwide hires proofreaders with experience and a Ph.D. Check career opportunities here. If you're at the beginning level, check other editing companies and remote job platforms.
Working at Wordvice, editing and proofreading company means being a part of elite editors, proofreaders, and writers. Check their job opportunities here.
Working Nomads is a site that gathers remote job opportunities from around the globe.
ZipRecruiter is a leading online jobs marketplace that helped since 2010, almost 2 million businesses find great candidates.
Proofreading jobs final thoughts
Remote proofreading jobs don't require a lot of mental efforts. Because you don't create anything new, just improve what other people have already done. But the average salary is pretty high. Therefore proofreading services can be a great part-time side hustle.
I know, it can be overwhelming to start a new career path. Therefore take advantage from Caitlyn FREE training and start a career as a proofreader today with Proofreadanywhere.com!