Kitesurfing and kiteboarding are two growing and very unique activities that adrenaline enthusiasts are getting into more and more. While the United States has an abundance of locations where kitesurfing and kiteboarding can be practiced, there are some kiteboarding destinations across the USA with better conditions than others. Some factors that should be considered include a smooth body of water, strong and consistent winds and, not required but always appreciated, a beautiful location.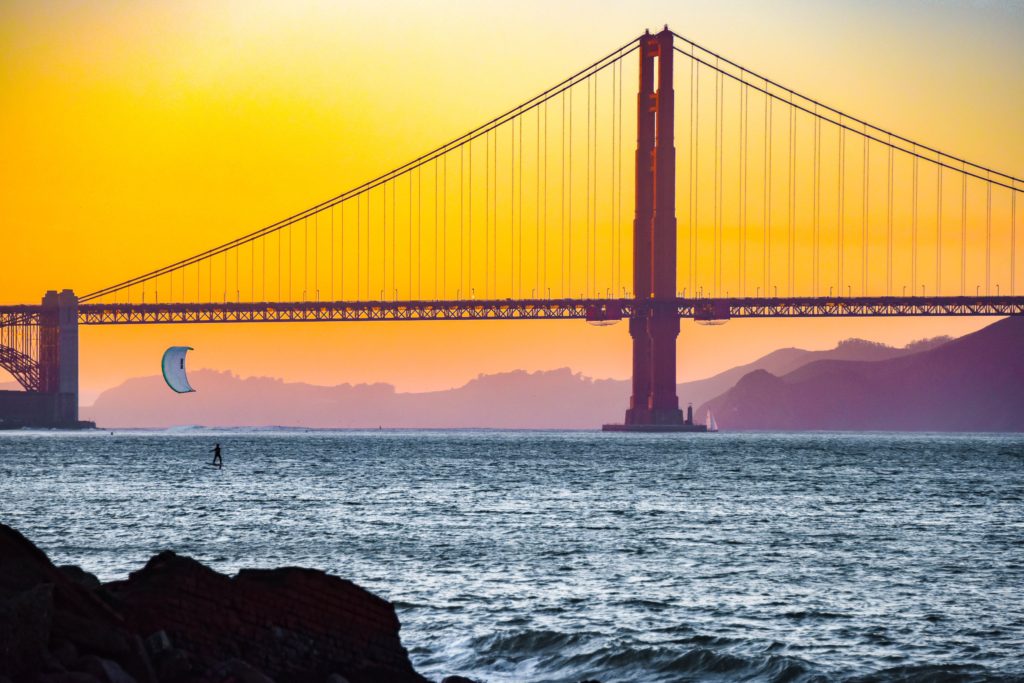 With so many potential kiteboarding destinations across the USA and so much information out there, below is a comprehensive and compiled list of the best kitesurfing and kiteboarding destinations across the USA.
Outer Banks, North Carolina
Looking for the best place to learn how to fly a kite? How about the place of the first airplane flight?
Outer Banks, North Carolina has become such a prime kiteboarding destination because it boasts some of the most ideal conditions in the country. It is the perfect place to learn and master kiteboarding skills due to endless beautiful beaches stretching for hundreds of miles and steady, breezy conditions. Outer Banks provides both shallow-water shorelines of the bay where beginners can learn how to kiteboard and open ocean for advanced riders.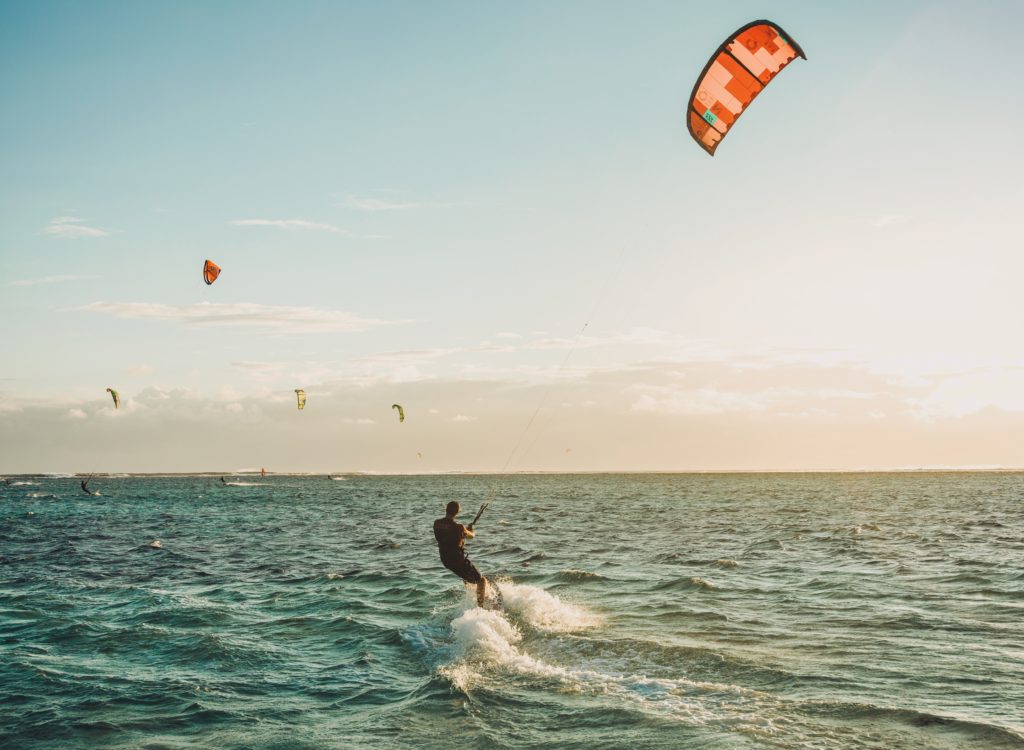 Pleasure Bay, Boston, Massachusetts
An ideal location for both kitesurfing and kiteboarding. Pleasure Bay in Boston, Massachusetts is one of the most exclusive destination in the US. Featuring offshore winds within a protected lagoon, the calm waters of Boston attract the best of the kite crowd. During peak season, the shoreline is filled with spectators observing the kiters as they glide through the smooth water.
Conveniently located in the downtown area and situated near easily accessed public transportation. Pleasure Bay has become one of the most desirable kitesurfing destinations around the USA.
South Padre Island, Texas
A popular kiteboarding and surfing destination for visitors, South Padre Island, Texas. It has a showcase of consistent winds, a subtropical climate and miles of shallow-water shoreline. South Padre Island is ideal for mastering the sport.
The most desirable times for kiters to visit this location is in the spring and fall. Due to its popularity, it is advisable to plan a trip to South Padre Island well in advance to anticipate the conditions, especially if taking lessons is on the to-do list.
Jupiter, Florida
In general, Florida as a whole has the ideal condition for kiteboarding with its long coastline and mild weather. However, Kite Beach in Jupiter, Florida has become the best spot for local kiteboarders. Kiters should be aware that exposed rocks do exist along some portions of the coast.
Quite popular, especially during tourist season, Kite Beach has many options for food and drinks; sure to keep kiters and spectators happy while enjoying the sport.
Muskegon, Michigan
For newcomers to the sport, Muskegon, Michigan is the ideal location to learn this exotic pastime. With a long pier to protect from the surf, this location offers mild conditions that kiters will appreciate.
Many amenities are available near the beach, including a restaurant, changing rooms and restrooms, making it a destination the whole family can come out and enjoy.
Hood River Gorge, Oregon
Just one hour inland from Portland, Oregon, Hood River Gorge is one of the most beautiful kiteboarding destinations out there. As the only sandy launch point on the Gorge, Hood River is consistently windy, making it the ideal location for new kiters to learn the sport.
In the running for the top kiteboarding location in the world, Hood River Gorge continues to bring both new and experienced kiters to the banks of the mighty Columbia River.
San Francisco, California
Not only is San Francisco an iconic tourist destination, it is also an amazing place to go kitesurfing. Waters below the Golden Gate Bridge often sprinkled with colorful kites, carrying the riders through the water.
The consistent moderate winds make it a desirable kitesurfing location for those who are experienced. Also, the supportive community and plethora of kitesurfing schools allow newcomers to feel welcomed.
Related Article:
Kiteboarding Gear Guide For Beginners
Belmont Shore in Long Beach, California
Since a portion of Southern California beaches have breakwalls that block waves, it can be difficult to find locations to kitesurf. However, California is Belmont Shores, an area of beach free from breakwalls. Nestled in the heart of Long Beach it is a great location for kitesurfing.
While Belmont Shores can become quite crowded in the summer months, it is an ideal location for beginners to learn and experts to thrive.
Honolulu, Hawaii
One of the best kitesurfing locations on the island of Oahu, Hawaii. Honolulu boasts steady winds and miles of long, sandy beaches.
Already a popular tourist destination, Honolulu offers all the amenities to make your kitesurfing experience enjoyable.
Maui, Hawaii
The island of Maui boasts some of the most beautiful coastal beaches. It serves as an entryway to the mighty ocean swells, perfect for kiteboarding. Kiteboarding enthusiasts routinely choose this location for its consistent conditions and warm waters.
With more kitable days per year than nearly any other location, it is no surprise that Maui is the go-to destination for beginners and pros alike.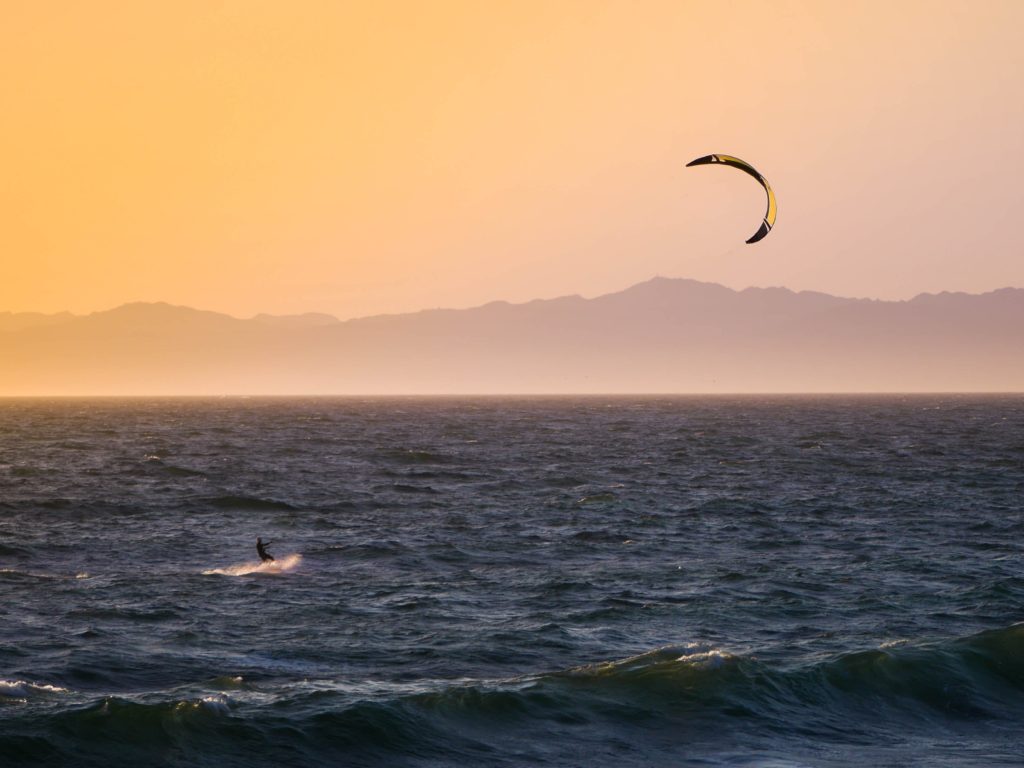 So which one of the listed kiteboarding destinations will you choose? With pristine locations all over the US, there are endless options to choose from.
From Hawaii to Florida, there is something for everyone. Whether you are just starting out or have been practicing for years.
Life is either a daring adventure or nothing. So make the most of it and call it adventure!