How to Become a Virtual Assistant in Less Than a Month
If you wonder how to become a virtual assistant, check this guide. Learn what qualifications and skills you need to become a virtual assistant.
This post may contain affiliate links. Please read our disclaimer for more info.
One of the best ways to make money from home with no experience is to become a virtual assistant. It is a great remote opportunity because you make money helping other people by performing simple tasks that require very little experience and don't require any degree at all.
This post will walk you through a virtual assistant's career, skills set, potential income, and the actual steps on how to become a virtual assistant in less than a month.
Related posts:
What services do Virtual Assistants offer
The main responsibility of a virtual assistant is to make things easy for a person or a business he works for.  Therefore it can be almost anything when it comes to what services a virtual assistant can offer.
Most of the time, a VA can help business owners with:
email management (answering, sorting, making drafts)
sorting documents
making and answering calls
customer support
travel management
meeting arrangements
helping with an online presence (social media management, blog maintenance, etc.)
creating content
clients outreach
And so much more.
Remember, the more tasks you can do, and the better you do them, the higher rate you can set for your VA services.
As you can see, these kinds of tasks don't require a degree or a ton of experience – just common sense, some basic computer skills and desire to help people run a business better.
Moreover, you can spend just a couple of hours per day to perform these tasks as a VA for other businesses. In short, you don't have to spend your life working in an office. Instead, you can work from home part-time and as a result spend more time with family.
Virtual Assistant Salary
Considering that a virtual assistant performs a wide range of services, the salary can also vary. Other things like skill set, experience, proactivity also affect the salary.
According to Zip Recruiter, the average salary for a virtual assistant is $67k. Moreover, top professionals make six figures per year.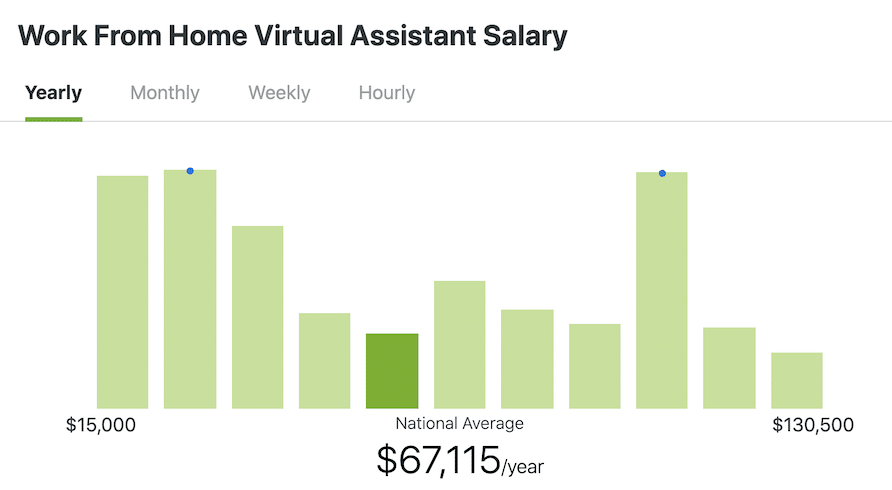 Again, let me mention that anyone can become a profound virtual assistant, even without experience or degree in less than 30 days.
How to Become a Virtual assistant in 4 steps
If you are looking for an easy remote job, then a virtual assistant's career is right for you. All you need to start is a clear understanding of what services you'd like to offer and how you will organize the routine.
Although the VA career doesn't require any formal education or a degree, it can be a sound idea to have at least some basic training.
There are a lot of online courses on how to become a virtual assistant.
Personally, I prefer to learn from the best in the field people who've already succeeded in the career I'm interested in. That way I can be sure that they will share not only academic knowledge but rather a comprehensive roadmap to success and share the things that really work.
A great example of a VA professional would be Gina Horkey. She turned her VA career into six figures business. Moreover, she started working as a VA as a work from home mom with a tight schedule and a lot of responsibilities.
She has a course that will lead you to Virtual Assistant Success that will teach you to:
wrap up your VA services offer
establish an online presence
build a VA foundation
launch and manage a VA business
find clients
pitch
have successful interviews
build relationships with clients
and so much more!
Jumpstart your VA career with Gina's Virtual Assistant course.
Set up a business
VA career lets you escape the corporate 9-5 routine, then you work for someone else. It has its own pros and cons. One of them (decide for yourself. I think it's a big advantage) is having to set up a business. You can perform services as a sole proprietor, as an LLC or a partnership. Choose accordingly on your personal situation. In any case, registering the business and getting a license can take less than a day.
Moreover, based on my experience, it takes longer to decide on the business name than actually register a business. Don't overthink the name, by the way. You can always start with your name+ VA and change it later or register a new trade name.
Set up an online presence
I am a true believer that an online presence can make things easy for remote specialists. Therefore a good online presence can create a great impression, show professionalism, and make future clients desire to work with you.
Serve your first client
Of course, the main goal of a VA is to help business owners with daily tasks. That's what you write in a mission statement.
But YOUR business goal should be making money. Any business's goal is to make money; let's be clear here. If the business doesn't make money, it's not a business. It is charity. Therefore, your ultimate goal as a VA is to start making money. And it all starts when you find the very first client.
Make finding your first client an ultimate VA business goal.
How to find Virtual Assistant clients
As with any other remote job, a virtual assistant can find a lot of opportunities to find gigs.
Word of mouth
First of all, start your road to success by telling your friends and family that you're pursuing a VA career. Believe it or not, but a lot of people either need help or know someone who might need help. It can be events arrangements or cleaning up the documents. Whatever the help is required for, it can be a great start. Maybe you won't find a big fish client that way. But it definitely will help you find a gig or two and build experience.
Social media
Social media presence will help spread the word about you and your services. It can be Instagram, Tweeter, or a Facebook page. Just make sure the profile looks professional, has easy access to your contact information and potential clients can contact you.
Online job search platforms
You can also search for remote positions of these sites:
Final thoughts
Whoever wants to succeed should never stop learning and invest in himself. The career of a virtual assistant allows you to help business owners and managers. Therefore you can learn the best business practices, see what actually works and what can be improved. Plus, get paid really good, considering that anyone even without a college degree and experience can become a top-notch virtual assistant.