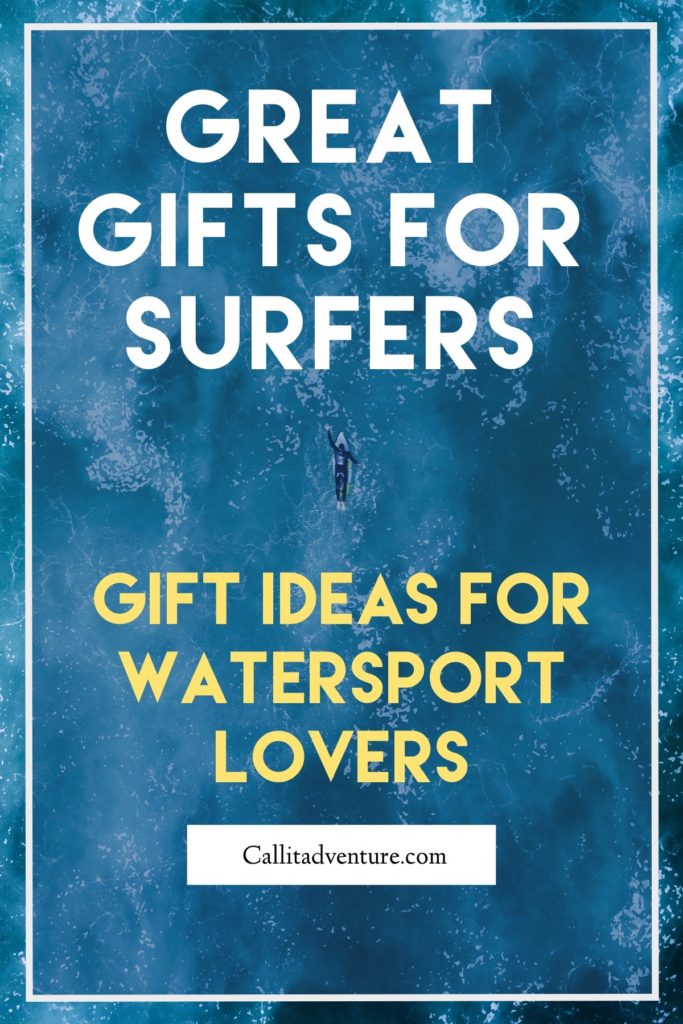 This post may contain affiliate links. Please read our disclaimer for more info.
Looking for water sports gifts? Here are great ideas of unique gifts for surfers, best gifts for kayakers and any water enthusiasts. Check the article for our picks of the best gifts for watersport lovers.
Holidays can bring a lot of joy while having to find a perfect gift can be a challenge. The best way to make a perfect gift is to follow the presentee's interests and hobbies. Just ask your friend what a perfect weekend looks like. In case is it chasing the wind and waves on surfboard or kiteboard, boating in a local river, or just hanging out with friends and family on the beach this article will help you to swim out of the ocean of ideas with the perfect and unique water sports gifts.
Here are some gifts for watersport lovers ideas that will please any watersport enthusiast.
Related reads:
Sunglasses for Snapchat
Sunscreen and skin care products
Suncare kit

Sunscreen & Wetsuit Cleaner Kit
Biodegradable Waterproof Sunscreen Spray
 
Biodegradable Sunscreen Lotion
Sunscreen Combo Pack
Organic Sunscreen Butter
Powerbank

Balance Board Trainer
Fitness tracker

S
mart Water Bottle

GoPro


GoPro Dive Mask for Scuba Diving and Snorkeling

Magnetic Shark Repellent Band

Surf Kit

Mini Pocket Beach Blanket

Key Lock Box

Changing Robe

Changing Mat Bag


Microfiber Towel

Waterproof Dry Bag Backpack
Transparent Tandem Kayak
Inflatable Raft
Inflatable Floating Mat
Multi-Tool for outdoor survival
Funny keychains
 Cup Holder for a boat or kayak
Thermo Water Bottle with 2 Mugs
Inflatable Lounger Sofa 


Stickers
Bottle Opener Keychains
Canoeing and Kayaking Wall Art

Surfboards Patent Prints
Water Waves Hat

ScharkSpark Drone SS41
Tavarua – The Surfing Board Game

Tin Signs
License Plate Frame
Books
Doormat
Pop-up cards
Jewelry
Movies
Notebook For Surfing Lovers
Slackline Kit
Apple Watch
Underwater Scooter
Underwater Camera Drone
Key Vault
Speed Meter for Measuring Wind Speed, Temperature and Wind Chill
Surfing TShirts
G-Shock Watches
Surf World Map
Waterproof Pouch Set
RipStik Ripster Caster Board
Ripsurf
Rinse Kit
Portable Shower
Water Removal from Ears
Surf Ear Plug
A Pick Up Shuttle Pad 
Surf Backpack
Surfboard Bike Rack
Balancing Toy Desk Top Decoration
Folding Beach Chair
Fruit Infused Water Bottle
Water as a driving force of all the nature beckons and attracts a man. Hope, that my picks of gifts for watersport lovers will help you make someone's escape from the bustling world a sweet escape.
Keep in mind that I may receive commissions when you click the links and make purchases. However, this does not impact my reviews and comparisons. I try my best to keep things fair and balanced, in order to help you make the best choice. For more information, see my disclosure policy.