Meet the easiest challenge ever to help you save money. Try joining 52 week money challenge to boost your savings.
Keep in mind that I may receive commissions when you click the links and make purchases. However, this does not impact my reviews and comparisons. I try my best to keep things fair and balanced, in order to help you make the best choice. For more information, see my disclosure policy.
Have you ever thought about improving your savings strategy, or maybe you haven't started saving yet and looking for a game plan on how to start it? Many people try 52 week money challenge, and so can you!
52 week money challenge
The idea behind the challenge is very straightforward: you set aside the amount of dollars equal to the number of the week. For example, during the first week of the challenge, you save $1; during the second week you save $2, and so on till the 52nd week when you save $52.
The trick is that the amount is so small that it is very easy to join the challenge.
The purpose of the 52 week money challenge is to help you boost your savings, create an emergency fund, or afford a dream purchase. It can be difficult to find extra money when you need it. Therefore start savings to prepare for a rainy day.
If you successfully complete the challenge, then by the end of it, you'll have $1,378.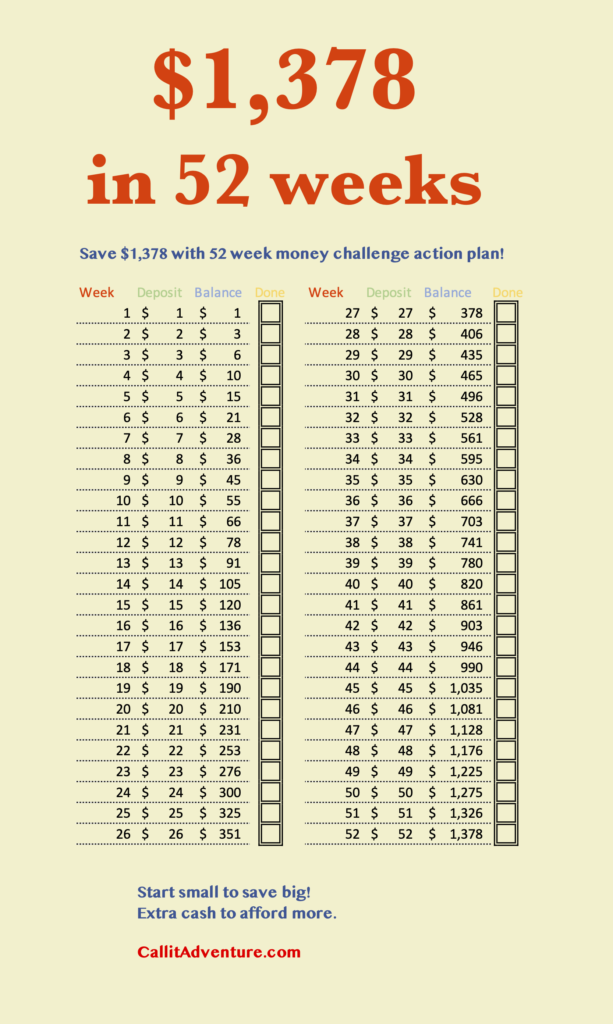 If you feel more competitive and confident in the ability to set aside bigger amounts, consider joining the 52 week savings challenge.
How to hack 52 week money challenge
No matter how easy the challenge may seem, it is still a challenge. Therefore, you may need some tips and tricks to finish it successfully.
Here is what you can do:
1. Create a separate saving account.
When extra dollars fall into a general saving account, they tend to blend in. Therefore it is pretty hard to track the progress. To simplify things, you can set up a separate account for 52 week money challenge and watch it grow.
2. Follow the action plan.
A simple printable with a clear plan can help you see the end goal and track your progress.

3. Start backward.
Some people start the challenge backward: start with $52 savings during the first week and then subtract one dollar every other week. The philosophy behind this approach is that you can spare some money for extra expenses during holiday season that comes at the end of the year.
4. Find a side hustle to help make extra cash.
If you can't spare a few dollars to keep up with 52 week money challenge, then find a side hustle or a way to make extra cash.
The world is full of opportunities to make extra money. Therefore, use it to your advantage to make money.
Here are some ideas that can help you find a perfect side hustle:
Benefits of 52 week challenge
The main and the undeniable benefit of the challenge is that you gain the habit of saving.
Starting savings with small amounts every week is very easy. Therefore the challenge is very appealing considering the fact that the goal is to end up with almost $1,400 by the end of the year.
Once you master small saving and create a routine, it will be very easy for you to save more.
Final thoughts
Many people have no savings, no emergency fund, and no idea how to manage financials and where to start. 52 week money challenge is a great starting point to change this situation. With small steps following a simple and easy plan, anyone can get a real experience of saving money, budgeting, and effectively managing the finances, plus end up with extra cash on the bank account.