Are you thinking to start hiking more often? Take 52 hikes challenge to elevate your outdoor experience and improve health.
Keep in mind that I may receive commissions when you click the links and make purchases. However, this does not impact my reviews and comparisons. I try my best to keep things fair and balanced, in order to help you make the best choice. For more information, see my disclosure policy.
Have you ever thought that you don't get outside enough or have enough steps per day? I'm sure this is the case for most of us, especially with the COVID pandemic and  working from home.
Here is a great solution: start a challenge that will make you go outside and explore the greater outdoors!
What is the 52 hike challenge?
52 hike challenge is a goal to complete 52 hikes in 52 weeks. Think of it as a small goal to get on a hike every week.
If for any reason, you skip one week, that is totally fine. Just make sure to do two hikes next week to keep up with the pace.
It doesn't have to be a New Year resolution, but why not? We tent to start new habits from a Monday or a January 1st. At least I gave myself a 52 hike challenge as a New Year resolution.
How I did the 52 hike challenge
My personal story behind the challenge is to make me move more, be more active, and basically do more steps daily. I'm in my 30s, and I work from home for the last couple of years.
If you wonder how to land a work from home job or open a home-based business, you may be interested in the following articles:
For those who wonder how I can stay effective working from home, here is a great post with Tips for working from home. Advice from a traveler.
So, back to my starting point.
Basically, I was sitting at my desk for 10-12 hours per day and doing occasional exercise. Of course, I'm an experienced traveler, and almost every weekend I used to get out of town to hike, camp, ski, snowboard, or learning to kitesurf. Plus, every time upon traveling to a new destination, it was really easy for me to hit over 10k steps per day.
But whenever I stayed home for a weekend or a couple of weekends in a row, my back wasn't very happy about it. Sitting at the desk five days per week and staying on the sofa for the weekend. Not good at all. Moreover, your body slows down when you don't challenge it to constant physical activity.
Therefore I was leading a very unhealthy way of life for my body during the week and was very active during the weekends. So I thought that I needed to put in order my physical activity in a way that it will fit my lifestyle plus benefit my health. As I was hiking a lot during the weekends, I thought that doing 52 hike challenge wouldn't be very harsh for me in terms of physical activity. I decided to do the 52 hike challenge to see that I'm a healthy and active person who can easily achieve this challenge.
Disclaimer here: no matter what challenge you take, make sure that it is achievable; not very easy, so it is still a challenge; not very hard, so you don't give up.
My starting point
To sum up, my starting point was looking pretty good: I needed a little motivation to take care of physical activity, plus I was an experienced hiker with essential equipment.
Moreover, I managed to do five hikes in January alone.
But the year 2020 hit us. The pandemic came, and stay at home order was issued.
My family took it really to heart, and we spend almost three months at home leaving once per two weeks for quick shopping.
We had a trip to Iceland planned in May. My goal was to do a lot of hiking there to help beat the challenge. As you all recall, some of the countries were closed for foreigners, including Iceland. As a result, I lost a great opportunity to keep up with the challenge.
So the month of June came, and I had only seven hikes! Can you imagine! Almost a half of the year was gone, and I had seven hikes instead of 26 required!
"Now this is getting challenging," – I thought.
No doubt, it was a sign for me to take the challenge seriously. After quarantining for a couple of months, I desperately needed to move and get back to semi-active life at least. Therefore I decided to take matters into my hands, take the 52 hike challenge seriously and complete it!
As long as long-distance traveling wasn't recommended, and, in my opinion, safe, I decided to take advantage of my remote work and do as many hikes PER WEEK as I can.
I sit down and created a list of local trails within 20 min driving distance from my home and started hiking them! I live in the beautiful state of Virginia with lots of small parks and trails. Therefore creating a list was not a difficult task.
Can you predict the result?
I finished the challenge in October! Yeap, I hiked 52 hikes in 10 months, including three months of not hiking at all!
The main benefit of the 52 hike challenge (and most of the challenges as well), in my opinion, is that after completing the challenge, you feel so powerful, like you can conquer Everest if you desire to do so.
For the sake of feeling strong and powerful, I challenge you to take the 52 hike challenge.
Benefits of 52 hike challenge
Hiking has numerous benefits:
Improves blood pressure
Boosts energy due to blood circulation
Makes you happier (exercising helps produce a hormone of happiness)
Improves immune system
Strengthens your muscles
Creates quality time if you hike with your favorite persons
Relaxes your mind when you hike alone
You can make new friends among local hikers or the 52 hike challenge community (check #52hikechallenge on Instagram)
Prolongs you life
Improves your mental health
52 hike challenge rules
So if you're ready to start the 52 hike challenge, here are some basic characteristics for a hike:
1. The length should be at least 1 mile.
From my personal experience, 1 mile is peanuts! If you are very determined, you can do 1 mile walk every evening and finish the challenge in 52 days!
2. Any trail is counted.
Either it is a trail in a national park, a National Historic Trail, a section of a National Scenic Trails, or just a small local park trail, and even urban park trails are counted!
3. You can hike one trail multiple times.
That's a surprise for those who think that you need to hit the road every weekend for a new hike or for those who don't have lots of trails around.
As for me, I found a couple of hikes and parks that I really love and hike multiple times for the sake of pure pleasure.
How to prepare for 52 hike challenge
The preparation for the 52 hike challenge is not very difficult. It is more planning than gathering equipment from my experience.
But here are some steps I suggest taking:
1. Buy hiking shoes
Good hiking shoes are a great investment. Hiking is all about making your legs work. Therefore make hiking a comfortable and safe experience. Never hike in flip-flops.
My all time favorite are Merell Moab Hiking Shoes that did a cross-country with me and have been very loyal for the last 7 years.
Related post: Hiking Gear Checklist. 10 Hiking Essentials For Beginners
2. Create a list of 52 small hikes around you.
I didn't create a list and was frustrated every weekend. But once I sat down and spent some time researching Google Maps around my home in search of trails, I ended up with a list of hikes. All that was left is to go down the list and check the hikes.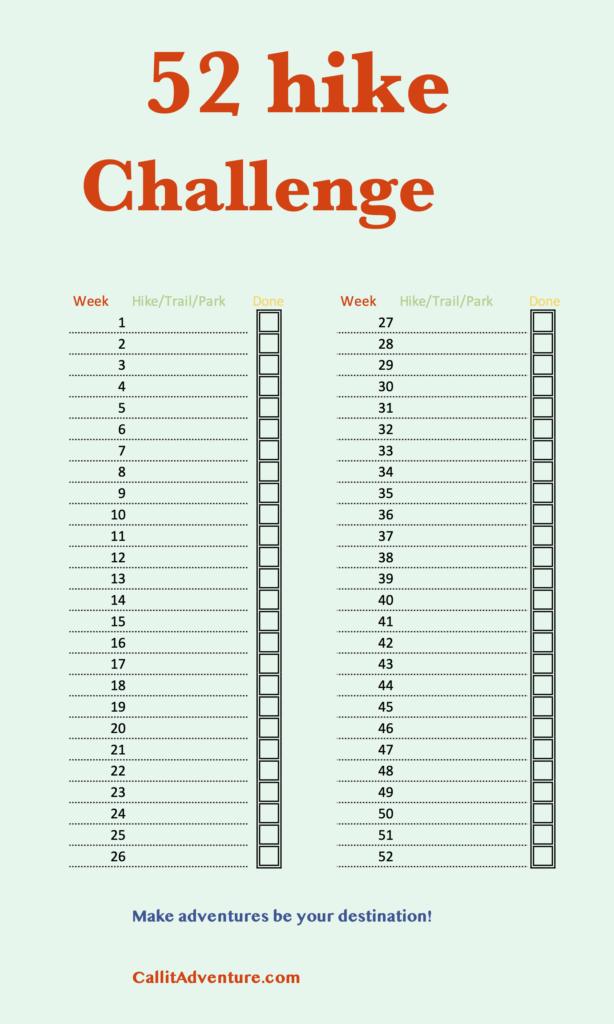 3. Start small.
No matter how motivated you seem, don't just start by hiking an advanced level hike. Start with a small hike in a nearby part and increase the difficulty whenever you feel you're ready.
4. Stay hydrated.
There are numerous rules for hiking. But the most important after wearing the hiking boots is to stay always hydrated. Drink water. Whenever you feel tired, you may be dehydrated, and a sip of water can give you a boost of energy.
Here is the bottle I take with me on the hikes: Hydro Flask Water Bottle, Amazon #1 Best Seller.
5. Prepare for long hikes in advance.
Whenever you decide to go an advanced hike, prepare in advance. Take enough water, food, snacks, equipment, and an emergency tool kit.
Related post: Necessary Camping Essentials And Camping Gear List
6. Track your success
A great idea to track your success to see how close you are to the finish. It can be Instagram posts or Facebook notes. Just make sure to keep track of your achievements.
Conclusion
To me, any challenge is about showing myself that I can achieve great things if I set a goal. 52 hike challenge is one of these goals that helped me to feel the unstoppable motivation that I had sleeping inside of me.
Today I do almost 4-5 miles per day and feel great!
Bonus: don't waste your steps. Get paid to walk!